Top Five List of Funny Sites I'm Thankful For
"If you're at a Thanksgiving dinner, but you don't like the stuffing or the cranberry sauce or anything else, just pretend like you're eating it, but instead, put it all in your lap and form it into a big mushy ball. Then, later, when you're out back having cigars with the boys, let out a big fake cough and throw the ball to the ground. Then say, 'Boy, these are good cigars!"
Jack Handey
Happy Thanksgiving!!
Happy Thanksgiving to my friends and family. You are what I am most grateful for in life.  You have seen me at my worst and at my best. You have been by my side through happiness and sorrow. I cannot thank you enough. Whether we see each other once a day, month, or year, I think of you always. You have made a difference in my life, and hope that I will be able to make a difference in yours.
For those that know me well, you also know that while I love you madly, I have now far exceeded my limits for expressing sweet gooey sentiments. I am about to have my honorary "Man Card" revoked. I must now revert back to the side of me that has been known to swear like a drunken sailor and who would love to be a bad-ass like the character of John Reese in Persons Of Interest. Alas, I'm more of a geek like Finch.
Throughout my life, humor, music, books, and art have saved my sanity and soul. Humor in particular has kept me somewhat sane.  I love people who make me laugh and that don't take themselves too seriously. Life is way too short. That being said, here is my Top Ten list of funny things I'm thankful for.
1. The Oatmeal OMG I Love this site. Explore it fully and  prepare to laugh
2. www.someecards.com Let your imagination fly!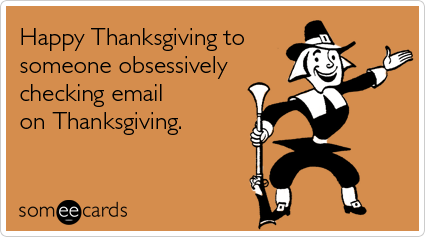 3. Tastefully Offensive – Always something to make me laugh
4. Awkward Family Photos – Just in time for Thanksgiving!
5. Damn You, Auto Correct! – I have such a love hate relationship with auto-correct. I turn it off and on more than a light switch.
OK, that's it for mine for now, – Please share your favorites!
Happy Turkey Day if you're in the U.S.!
by